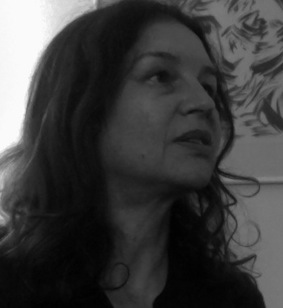 Work in porcelain began in 1988 after studying Fine Art in South Africa and the UK during the 1980s.
The working process begins with a pinched vessel which slowly gains height by the addition of numerous coiled layers. The porcelain body is simultaneously pinched and smoothed on the inside and outside until the vessel walls become fine membranes, making them translucent when fired.
Going with the grain of this coil-forming process (the passage of the metal kidney from centre to rim and the rhythmic marks created by pinching), the fine brush drawing on the surface of the vessels makes this often imperceptible porcelain working process visible. In this respect, the brush drawing constitutes the completion of the piece, as the inner nuances of the building process are re-imagined in graphic form.
Similarly, the integrated coiled oxide bands make the stratified porcelain layers visible in colour.
The analogies found between the coil-forming process and growth patterns of plants continue to be my most important source of inspiration, with Fibonacci rhythms, phyllotaxis and logarithmic spirals all informing the work.
The freehand ink on paper line drawings are an interesting counterpoint to the porcelain vessels in that they are done more rapidly. A pyramidal motif as seen from above is the point of departure for these drawings, initiating a journey of focused intuition. While completing this circuitous route, a linear network opens outwards and then loops back incrementally to the centre, making some improvised clustered organic growth patterns, that when repeated form complex statements within the context of a particular piece. An 'abrash' is often revealed as a result of this process.
These drawings are part of a continuing series started in 1996.
Exhibitions include:
2013
Everard Read Centenary, Cape Town
2011
Everard Read Gallery, Cape Town
'Vessels', Solo exhibition, porcelain vessels and ink on paper line drawings
Dubhe Carreño Gallery, Chicago
2009
SOFA Chicago, Portals Gallery
2008
SOFA Chicago, Portals Gallery
2007
Portals Gallery, Chicago
SOFA Chicago, Portals Gallery
2006
Ceramics S.A. Artscape, Cape Town
The  Cape Gallery, Cape Town
SOFA Chicago, Portals Gallery
2005

Ceramics S.A. Artscape, Cape Town
'Porcelain' Rust-en-Vrede, Durbanville
2004

The Cape Gallery, Cape Town
2003

Altech Triennale, Artscape, Cape Town
2002

'African Earth', Museum Africa, Johannesburg
FNB Vita, Museum Africa, Johannesburg
'Variations', art b, Bellville Centre
2001

APSA Nationals, Cape Town
Salon at the Bay Hotel, Cape Town
1998

APSA Cape Regionals, Cape Town
1996

National Ceramics Biennale, Johannesburg
1988

The Camden Arts Centre, London
Also see:
Everard Read Gallery Cape Town past exhibition
Nelson Mandela Metropolitan Museum permanent collection
Ellerman House art collection
Cape Town Creatives featured artist portfolio
Pottery Making Illustrated November/December 2012
Handbuilding Techniques, The American Ceramic Society, 2015